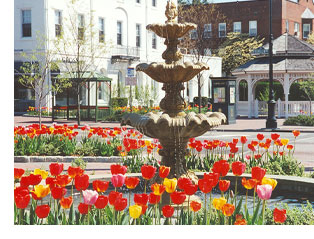 Franklin Avenue is the main thoroughfare of the Garden City business district and is home to national department stores including Lord & Taylor and Sears plus specialty retailers like H.L. Gross & Brothers Jewelers, Le Joailler Jewelers and Barbatsuly Furs, as well as many major firms and financial service organizations. It has also been cited as Garden City "Restaurant Row" with new eateries joining the long-established fine restaurants throughout the business district
On intersecting Seventh Street, the village's community shopping center, specialty shops and services abound along with gourmet restaurants, financial and medical services.
Here, business and recreational travelers from around the world relax in comfort and conduct business at the four-star, five-diamond, 280-room Garden City Hotel, which has long reflected Garden City's reputation as Long Island's most prestigious business and residential community.
Garden City is conveniently accessible from almost anywhere. Centrally located in Nassau County, Garden City is an easy drive from the Long Island Expressway, the Northern State, Southern State and Meadowbrook Parkways. For commuters and visitors alike, there are six Long Island Railroad (LIRR) stops and two lines within the Incorporated Village. The village is also adjacent to the Mineola train station on the main LIRR line from Manhattan, connecting all points of Long Island. Garden City is just a half-hour drive to JFK and LaGuardia airports for non-stop flights to anywhere in the world. And Long Island's Islip-MacArthur Airport is only 45 minutes away.
Combine all of the above with Garden City's proximity to the Nassau County Seat, NY Supreme Court, Nassau County courts and its incredible list of municipal services, ranging from free business garbage pickup to over 10,000 unmetered parking spaces, and you have a recipe for business success. It all adds up to Garden City being the premier Long Island address in which to locate and grow.