The Garden City Chamber of Commerce is dedicated to the prosperity of its member businesses and to the preservation of the quality, character and vitality of our greater community.
Incorporated in 1926, the Chamber moved Garden City's historic Long Island Motor Parkway Toll Lodge to 230 Seventh Street in 1989 where it became the Chamber's permanent home.
The Garden City Chamber of Commerce has nearly 450 members and is the largest Community Chamber of Commerce on Long Island. And, it is one of the most innovative and successful community chambers throughout the State of New York.
Acts as an information and referral service, answering hundreds of nation-wide requests for information about Garden City and its businesses.
Sponsors community programs and special events attracting thousands of visitors to the Village.
Sponsors luncheon programs featuring prominent speakers from the business and political sector.
Holds a monthly professional group networking breakfast.
Hosts the Annual Pineapple Ball at the Garden City Hotel, where the Chamber recognizes outstanding community service by presenting the Citizen of the Year, Business Person of the Year and Community Achievement Award.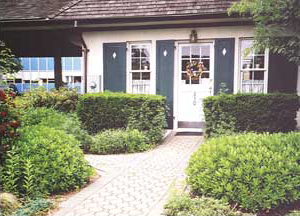 This Garden City Toll Lodge is the one remaining lodge of the identical eleven built by Vanderbilt for his Long Island Motor Parkway, which by 1911 ran from Hillside Avenue in Queens to Lake Ronkonkoma. Today, the tollhouse serves as the headquarters for the Chamber of Commerce.