www.gardencityny.net
Village Hall is the center of municipal operations including public works, water supply, combined paid/volunteer fire department, and police department. Garden City is governed by the Community Agreement, an unusual and highly successful non-partisan arrangement.
The mayor and trustees serve without pay, having been elected on a rotation basis through the four property owners' associations. The system has been a major force in preserving the character and desirability of Garden City as a unique residential community.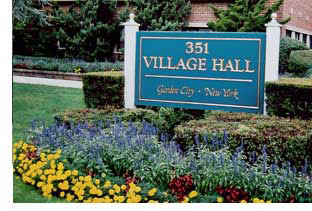 Mayor
Mayor Mary Carter Flanagan
Trustee
Trustee Bruce J Chester
Trustee Edward T Finneran
Trustee Michele Beach Harrington
Trustee Charles P Kelly
Trustee Lawrence N Marciano, Jr
Trustee Michael J Sullivan
Trustee Bruce A Torino
Administrative Offices
351 Stewart Ave., Garden City NY 11530
Village Hall - First Floor
516-465-4000
8:30 am - 4:30 pm Monday - Friday
Village Administrator
Ralph V. Suozzi - Ext. 4167
Village Clerk
Karen M. Altman - Ext. 4051
Director of Public Works
John Borroni, P.E. - Ext. 4001
Superintendent of Building
Paul Blake - Ext. 4040
Village Auditor
Adam Lipke, CPA - Ext. 4167
Chairman of the Board of Commissioners
and of Cultural and Recreational Affairs
Paul Blake - Ext. 4077
Frequently Called Numbers
Building - Ext. 4040
Sanitation - Ext. 4031,  Ext. 4032
Tax Information - Ext. 4156
Water/Sewer Service - Ext. 4021
Water Billing - Ext. 4160
Garden City Fire Department
Garden City Police Department
Board of Police Commissioners
(Business) 516-465-4100
(Emergencies) 911
(Code Violations) 516-465-4100
www.gardencityny.net
Other Governmental Contact Information